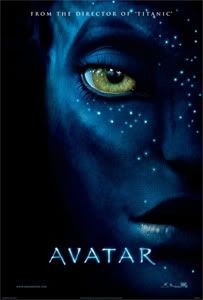 So, here it is, the movie I so desperately wanted to hate. In fact, I almost refused to see Avatar in general until one of my friends pestered me into seeing it in 3D this past Saturday. I couldn't possibly fathom liking this movie. I felt that $500 million (movie+marketing budget) was just way too much to spend on a simple movie. On top of that, with the economy in the crapper, I was horrified that a studio would spend half a billion dollars to produce what was essentially a rehashed science fiction movie thusly severely limiting their potential fanbase.
Without sounding entirely too arrogant, I am rarely wrong. I fail, however, to remember a time when I was this wrong. As in, completely and utterly wrong. Clocking in at an impressive 2 hours, 40 minutes, James Cameron's Avatar is easily one of the best movies I've seen in this young millenium. Despite all the internet hate directed towards the movie (I counted myself among such a crowd), Avatar has stunned me into silence. I can't even aptly describe the movie to people. It is such a visual masterpiece that it simply must be viewed to truly be appreciated.
The movie begins in the year 2154 where humans have mastered some sort of intergalactic travel that brings them to Alpha Centauri and the moon Pandora. On Pandora, humans have discovered an unimaginatively named "Unobtainium" ore that goes for "$20 million a kilo back on Earth." (Though, in hindsight, they never really explain what it does.)
Soon enough our main character, Jake Sully played by Sam Worthington (Terminator: Salvation, Clash of the Titans), makes his appearance. A typical brash young Marine, Sulley lost the use of his legs during said military service. Jake's brother, Thomas, has recently been killed (though no explanation is given here either). Thomas Sully had been heavily involved in the Avatar program headed by whatever corporation is running the show on Pandora.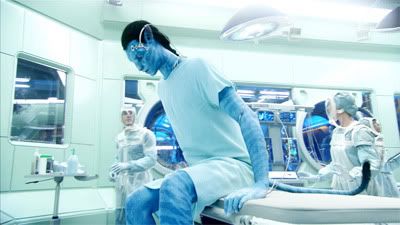 An avatar is a mixture of the Na'vi and human dna genome to replicate one of the 9-foot tall, blue luminous creatures stalking Pandora. Through special technology, the operator is able to transfer their mind into the body of the Na'vi and interact with the "real" Na'vi as one of their own. Jake is assigned to a group of scientists headed by Dr. Augenstine (Sigourney Weaver).
Soon thereafter, Jake manages to get himself lost deep in the jungles of Pandora and eventually in severe trouble. A female Na'vi, Neytiri (played by the luscious Zoe Saldana), saves Jake's life begrudgingly. Eventually, our hapless hero finds himself deep in the Na'vi village. After much debating, and some fighting, it is finally decided that Jake (referred to constantly by the Na'vi as Jakesully) should train in the ways of the Na'vi Warriors so that he may learn their culture.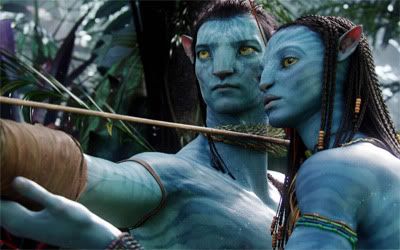 That is about all the plotline I'm willing to give away. What follows is a whirlwind adventure as Jake slowly learns to not only be Na'vi, but to love being Na'vi. Obviously, the leader of the American forces, Colonel Quaritch (played by Stephen Lang), isn't thrilled about Jake flirting with the natives. Soon enough, both sides find themselves embroiled in a nasty war that will decide the fate of Pandora.
Avatar will stand as a genre-defining theatrical production in regards to the visuals it painted on the big screen. Cameron was wise to wait until technology had caught up enough for him to make the movie he always envisioned. The detail (individual sweat glands) in each Na'vi is mindboggingly. Each Na'vi was made unique to their character and this truly added to the realism of the film.
Indeed, it was incredibly difficult to tell where the "real" components of the film ended and the CGI began. Obviously, you know that there is no Pandora nor does the military have 12 foot tall armored suits nor do giant blue half-naked natives exist, but you honestly forget all that while you are watching this movie. Three hours fly by as even supposedly boring parts of the film intrigue the viewer's eye with a level of detail I've never seen in any movie. Ever.
As corny as it may sound, my favorite part of Avatar was the environment. James Cameron painstakingly crafted an alien world replete with its own plants and animals. The creatures, both large and small, scary and cute, were individually created with loving care. The scenery was breathtaking as the viewer is transported from floating mountains to lush jungle paradises. I hate to wax poetic, but it is extremely difficult to describe the film to someone who hasn't seen it.
Also, Neytiri is oddly arousing.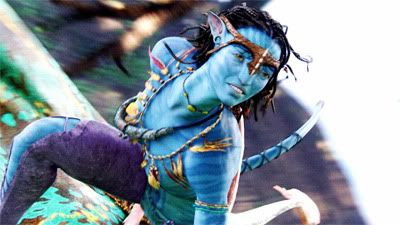 Try not to listen to the naysayers. There will always be people out there that hate the "it" thing just to hate it. Watch and judge for yourself. I should note, however, that if you're looking for a movie whose plotline is Oscar-worthy, you'd be better off looking elsewhere. Yes, as the critics have remarked, the plot seems to be the biggest sinkhole for an otherwise flawless film. However, one must remember that this is a science fiction movie and therefore follows a formula used successfully for half a century. Watch Avatar for what it is and I promise that you will love it! Try to turn it into something its not and you'll leave disappointed.
Graphic Design Note: Sorry to veer off here, but did Cameron really have to use the Papyrus font for the subtitles/main title? I mean, in that $500 million he couldn't set aside a little dough to find a graphic designer worth their weight in Wacom tablets to either handcraft a font or pick something that isn't universally loathed in the design world? Really James? REALLY?
Sorry. Just watch Avatar.
-Geist