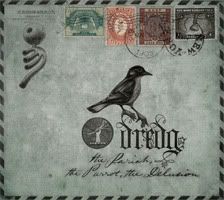 Dredg
The Pariah, The Parrot, The Delusion
Release Date: June 9, 2009
The first thing you'll realize about Dredg is the pure and unadulterated talent of vocalist Gavin Hayes. Formed in 1993, Hayes and company have flown under the corporate radar as they released four albums that crush anything else I've heard up to this point. As with their previous releases, Dredg once again manages to combine an aggressive sound with visceral, thoughtful lyrics and beautiful musicianship.
I definitely wouldn't use words such as "catchy" or "radio-friendly" with Dredg though I would wager that many people will walk away with that impression upon first listen. Dredg isn't really a band you can listen to once and pick up all their subtleties. Dino Campanella plays his drums with quiet abandon. Often, his technique and expertise gets swallowed up by the twangy guitars and audible bass lines.
Some critics and fans have complained that Dredg didn't seek to think outside of the proverbial box with this release as they once did with their second studio album, El Cielo. I believe the band is simply pushing forward and maturing as a group. When not producing instrumentals that sound as though they'd be more at home in a Tim Burton film, Dredg proves to fan and casual listener alike that they truly love making music. And in that love they illustrate their profound ability to produce music. The Pariah, The Parrot, The Delusion is one of the few albums I've ever listened to that managed to engulf me completely and utterly. You owe it to yourself to buy this album.
http://www.youtube.com/watch?v=Q2lnZPdQ27g