Optimus Red and blue with stars Oversized
Okay, so, two of my favorite incarnations of Optimus Prime are
Animated
and
Cybertron/Galaxy Force
. When I saw this knockoff toy that actually
combines the two
I jumped on it.
This thing is so great: I mean yeah, it's got the cheapness you'd expect from a KO, but the amount of awesome in it makes up for the imperfections. It's basically an up-sized version of Cybertron Mode Animated Prime, but he has Cybertron/Galaxy Force Prime's wings.

If you compare mine to the one in the photos from the KOToys page (link is above), you'll note that the reds and blues are swapped. Personally, I like it better this way because his forearms and hands are blue and the wings are red.
The wheels in the wings borrowed from Galaxy Force Prime are one with the rest of the mold, as one might expect from a knockoff. But unexpectedly, the wings have not one but two different color passes, so that the tires are proper tire-color and the parts that are supposed to be silver ARE silver. Seems quite luxurious for a knockoff!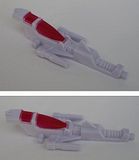 The only real complaint I have about this toy is the gun, which I've learned is part of the kibble that comes with a couple of micromaster toys, and the kibble can go together to form a jet/space thing.
The gun is silly and unconvincing, so I took the light-up sword from a Happy Well Road-Bot that I've gotten rid of, cut down the handl a little bitt and gave it to this guy. It looks much better, at least until I can build a suitable rocket-axe (which may never happen).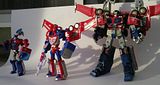 As you can see, scale-wise this guy fits right in between his two "parent" molds.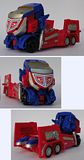 And now, truck mode!
The cab is pretty much spot-on. The only real problem (besides the fact that it doesn't really have windows) is the little cavities in the front fenders that become his shoulders. The top/arms/shoulders/shield assembly isn't any MORE of a pain to fit into vehicle mode, but it certainly doesn't fit together any more easily.
The wings actually peg into place on the lower leg/track areas and the flaps directly behind the front wheels so the legs don't flop around, and with a little convincing, you can actually get the wheels built into the tracks to touch the ground. I had expected the track-rollers to hang uselessly while the molded-in wheels on the wings simply scrape along the floor. It actually looks halfway plausible as a Cybertronian hauler truck.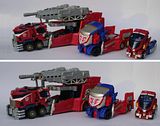 Again, comparisons with the parent molds in truck modes.
It's almost as if the KO's bed is made to carry other Deluxe-size Transformers in vehicle mode. It works very well with the official Deluxe Animated Cybertron-mode Optimus. But the two of them only kinda-sorta stack onto Galaxy Force Prime. Oh well.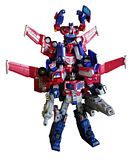 And since I stacked up the truck modes, I thought it was only fair to stack the robot modes as well.