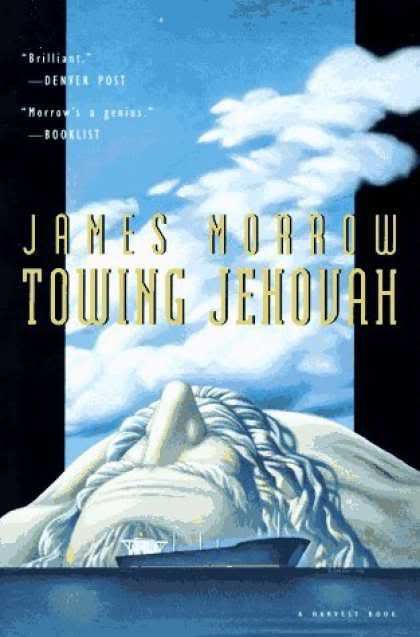 In preparation for finishing the sequel to Towing Jehovah, I figured there would be no better time than the present to write a review of James Morrow's first book. One thing we should clear up first: If you are a bible-thumper with absolutely no sense of satire or humor....stay away from James Morrow. However if, like me, you find religion extremely amusing and like to see it exploited for laughs (a la Dogma) by all means, keep reading!
The story begins with the tragic tale of Captain Anthony Van Horne, former captain of a gigantic oil tanker that suffered an Exxon Valdez-esque spill. Van Horne is approached by one of God's angels and presented with the task of towing the two-mile corpse of God across the ocean. God the Almighty has, for inexplicable reasons, died and plummeted to Earth, splashing down at 0 degrees latitude, 0 degrees longitude. The angels have constructed Him a tomb in the Arctic. Where, obviously, Van Horne is expected to tow the Corpus Dei.
Though the book is filled with satire, it is not a knee-slapping, guffaw type of humor. Rather, Morrow weaves in slight observations of humanity at the turn of the century that are poignant and amusing. A great deal of the book focuses on a world that knows no God, albeit it a world contained within the crew of Van Horne's oil tanker. One particular scene in the book finds the crew warring with themselves over whether or not they have anything left to obey as the full gamut of the 10 Commandments are broken. Morrow further expounds on this idea as the Vatican is thrown in upheaval and all the Atheists suddenly realize they were wrong.
If you can get over the fact that God is dead, and manage to not find it sacrilegious, then I highly recommend Towing Jehovah. Even if you are a "believer" I urge you to read it for no other reason than to pontificate on what the world would be like if God proved his existence by dying.