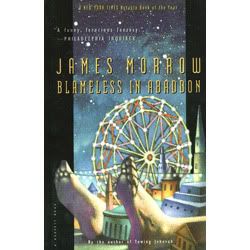 Blameless in Abaddon, the sequel to Morrow's award-winning Towing Jehovah, delivers the exact same level of humor, oddities and religion as the first book. Contrary to what we were lead to believe in Jehovah, God is in fact not dead--he is in a coma.
In addition, God's body is no longer under the control of the Vatican. After falling on hard times, the Catholic regime was forced to sell His body to the Baptist Federation. They have, in turn, made the corpus dei into the main attraction at a new amusement park dubbed Celestial City. If you are already offended, you should probably leave now.
Our protagonist, Martin Candle, enters the book as an eclectic justice of the peace before suffering the death of his wife and the onset of terminal prostate cancer. In true Jobian fashion, Candle decides to fight back against a God he believes has caused endless pain and countless (needless) deaths across the world. After a short struggle, Candle is able to convince the International World Court to hear International 227 Martin Candle vs. God.
Hidden amongst the satire, Candle outlines some very real theodicies concerning our purported creator. Pondering defenses such as "hidden harmony," lovingly stated as "It is not okay for a father to molest his daughter all Winter as long as he plans on taking her for ice cream in the Spring." Thought the analogy might be crude, Morrow uses several such analogies to explain theodicies that have been fought over for millenia.
Though considerably long-winded in some sections, and lacking the outright surprises and excitement of Towing Jehovah, Morrow has weaved himself an excellent sequel. The ending will surprise, and possibly alarm, you. As I stated somewhat in my review of Towing Jehovah, do not read this if you're a biblethumper with no sense of humor. Not only is this satire amusing, it poses some questions about religion and God that every man, woman and child should be asking themselves.