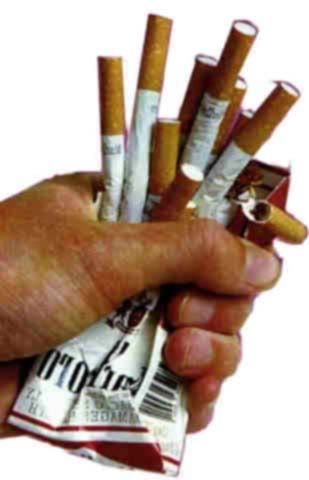 Technically that title is inaccurate. I have not smoked for three weeks now. Giving up my beloved nicotine is easily one of the hardest things I've ever attempted to do. Over the past decade, I've tried on numerous occasions to quit, but always came crawling back. The longest span I made it without cigarettes? Three months. However, the judges have informed me that this record has been purged due to the discovery that I took up rubbing tobacco during that period. My bad.
Why are cigarettes so hard to give up? I've been smoking since I turned 12. Well, sort of. Back in 7th grade, a group of us began "smoking" Marlboro Reds. We were young, naive and weren't actually inhaling them. Until my sister taught us how. God bless her. /sarcasm. At that point in my life, a carton of Reds was $19 and a gallon of gas was $0.87. My mother was working two jobs and smoked herself. It was easy to hang out on the back porch after school puffing away on a cigarette in a vain attempt to impress anyone that might be watching. What started as "the cool thing to do" eventually morphed into a powerful addiction.
Let's look at some of the factors that making quitting such a rampant bitch:
1.) Your friends don't help. Everyone has smoker friends and nonsmoker friends. Both of them suck when you're trying to quit. Non-smokers think you're an idiot in general for inhaling the toxic fumes and aren't generally as supportive as you'd think. Smoker friends don't want to feel guilty about continuing to smoke. Remember, there is legitimacy in numbers. Or something like that. On top of that, your smoker friends are the first ones to fork over a square when you ask, even if they know full well you're trying to quit. Let me state it here: Don't give me a cigarette no matter what I say to you. Unless I offer you like $10,000, then I'd understand. (Editor's Note: I'm not good for it). Friends: try to stay positive and let us know that it is great that we've quit. Even if you couldn't give two shits.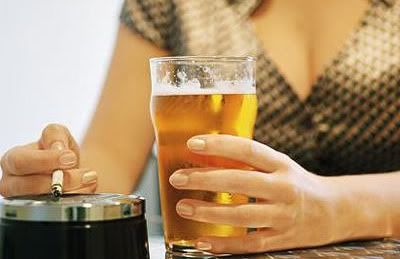 2.) Alcohol. There are certain things in life that just go together. Peanut Butter and Jelly. Ham and Cheese. Bert and Ernie. Beer and cigarettes. I can't tell you how many nights I've churned through an entire pack of smokes while enjoying Great Lakes' best brews. To me, it was always a way to "cleanse the palette." After pounding down 12 mugs of Natural Light draft, your mouth becomes numb to any taste. Smoking sort of broke up the oral monotony. Trust me, I'm not justifying this idiocy, just offering an explanation. In addition, we all know that our ability to say "no" while drunk is severely impeded. The passage of time also feels different. I can't count the number of nights I stood outside on a bar patio, talking to my fraternity brothers, chainsmoking and drinking only to wake up the next day and find I smoked a whole pack of cigarettes in five hours. Demoralizing.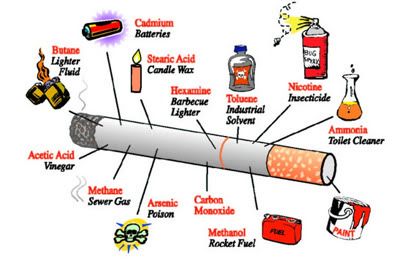 3.) Don't wanna! I enjoy(ed) smoking. I know, crazy right? Considering I ended up smelling like an ashtray, my teeth were beginning to yellow, my hands smelled and I was inhaling 51 carcinogenic chemicals with every puff. But, tell any smoker about the dangers of their habit and how 400,000 Americans lose their lives to it each year and you'll most likely be met with just a polite smile. Smokers have effectively put that part of the equation out of our heads. It transforms into a "nah...couldn't be me" mentality. Even when you talk to someone with a tube sticking out of their neck that informs you they thought the same thing. If cigarettes turned the skin covering our chest black, we might be more prone to be affected by the thought of dying from it. However, it falls under the "out of sight, out of mind" category with most of us.
Anyway, forget all that "sciency" stuff (Editor's Note: that was a joke). When you inhale that puff of blue smoke, nicotine raises through your body within 7 seconds. It releases hormones and chemicals that relax the body and mind, put people at ease, enhance concentration and suppress hunger. Does it feel good? Fuck yes it feels good. A smoker is like a crack addict. I've done things I'm not proud of to get one more sweet hit. For instance, when I went to Berlin, I rushed through security at JFK in New York to have one more cigarette before the 9 hour flight to Germany. It was a close call getting back to my gate. I've smoked on church grounds. I've missed weddings because I was busy outside puffing away.
Alright, why did you quit then? In no particular order....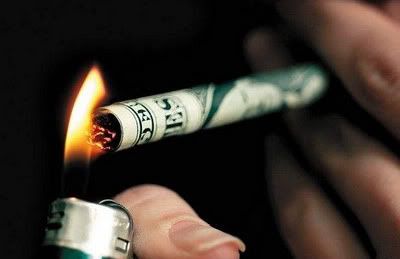 1.) Money. As sad as it is, this was one of my main driving factors. My wife and I began reviewing our spending habits over the past four months and I discovered that I was spending nearly $100 per month on cigarettes. One. Hundred. Dollars. That's $1200 a year! If you average everything out, I could've banked $9600 since the day I turned 18 and really got into the habit. Call me cheap, call me frugal, call me a Jew (Editor's Note: I'm not Jewish, and that would make you not only racist, but an idiot as well) but I can't stand the thought of spending so much money on something that is actively working to kill me. I'm not going to say I'll save up all that money like some former smokers did, but it will help in the long run.
2.) The Wife and (eventually) Kids. Paula has always been pretty cool about my smoking habit. She was never afraid to give me a kiss even after I'd just spent the whole night outside sucking in carcinogens. I guess the overpowering smell of ashtray must've been a hit with her. I watched my mom go through my stepdad's throat cancer (from rubbing tobacco) and I watched my dad go through my stepmom's heart attack (caused by smoking), I have no desire to put Paula through the same thing. I can't imagine being laid up in a hospital bed with lung cancer because I was too stupid to think of other people and quit while I'm ahead.
3.) Clothes and teeth, oh my! A couple months ago, my wife remarked that my teeth were starting to develop a yellow tint. I'm not typically a self-conscious person. I'm slightly overweight, I have a large head and I'm hairer-than-average. However, I couldn't get the comment out of my mind. I didn't want to be one of those people that wouldn't smile in pictures and that wives queried their husbands on the way home: "Oh my God! Did you see Chad's teeth?? Eww!" On the other hand, smokers can't smell themselves. Oh sure, I could smell smoke when I was taking hits, but I never knew that my hair, clothes and skin reeked of smoke. Now that my sense of smell has returned, I can smell smoke from a mile away. If someone three apartments over is smoking outside, my nose can detect it from my balcony. It makes me ponder how anyone could stand to be around me. When my general manager comes into my office, it is always after a cigarette. It seems as though every movement he makes sends another blast of the wretched smell my way; and I won't even go into the breath part of it. Paula...how did you ever stand to kiss me after I had just finished smoking a cigarette??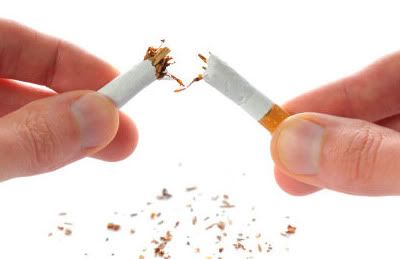 4.) No Smoking! No Smoking! No Smoking! This is, perhaps, the dumbest reason I quit, but a valid one in my opinion. First, the restaurants outlawed smokers. I completely understand as, even at the height of my addiction, I would never want to smell the sickly stench of smoke while trying to chow down on a Big Mac. Then the bars, the smoker's haven of nicotine, followed suit. Soon, it became impossible to smoke anywhere. You must be 100 feet from this building to smoke. Smoking area at back porch. And so on. I came to this conclusion at a Breaking Benjamin concert. Myself and three of my friends went outside to the designated "smoking area" and found ourselves corralled in a small fenced-in area. There must have been one hundred people in an area fit for maybe half that. I thought of what we must all look like, scrunched together with grayish-blue smoke rising in waves, to a non-smoker. I figured they must pity us for handing our lives over to something so small and insignificant as a cigarette.
Try to stop smoking if you can. It sucks, it really, really, sucks. For the first week and most of the second week, I continually thought of how good a cigarette would taste. How "just one" wouldn't hurt. But don't give in to that urge. Every time you allow yourself one, you start all over again. These 14 days I've carefully collected will all be for naught if I put my lips on just one filter. I've tried in the past to quit, but even I am not so foolish as to believe 100% that I can do it this time. I am trying harder than I've ever tried before, however, and with my wife, family and friends to back me up...hopefully I'll be able to do it.
...........................................................
Crap! Thought I was done, but forgot one thing: If you're going to quit, just do it. Don't try to come up with a system. Don't try the patch or the gum or hypnotism or some fancy non-FDA-Approved drug. Just stop. Decide why you want yo quit and use that as your crutch to get through the hardest times. I've never met a true smoker that quit due to a bag of celery and carrots. Every successful former smoker I've met has stated they did it cold turkey. No rationing. No crazy promises. Just cold turkey. It sucks, but just like exercise, the "easy" way rarely provides any results.