So, as some of you may know, I officially began my diet over a week ago. I don't advise eating frozen dinners often during a diet. Processed food is never something that should enter your mind as you seek to drop pounds. However, with that being said, we all live in the real world and sometimes we're just too damn busy (or tired) to cook something good. This is where you'd usually turn to fast food or takeout. While these frozen meals are still not the healthiest (check below for my rants on their sodium levels), they are infinitely better for you than even a large order of fries (500 calories) or 5 pc Chicken Tenders (660 calories).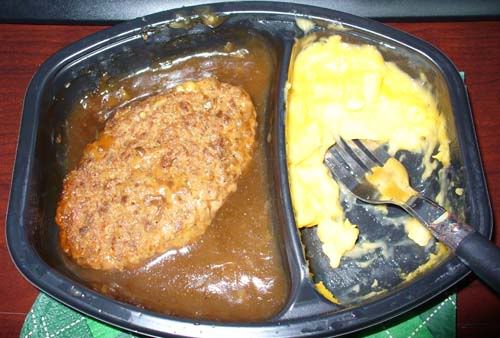 SmartOnes™ Salisbury Steak & Macaroni Cheese
Calories: 280
Grams of Fat: 8
Sodium: 840 mg
I began this meal by eating the food I felt would taste most like "normal" food: Mac & Cheese. It didn't fail to disappoint nor did it blow away my tastebuds. The noodles themselves are a tad overcooked (most likely the result of being steamed in the microwave) and the cheese is lackluster. However, it was not horrendous. I would say it reminded me of very average "cafeteria" mac & cheese.
Next I slowly turned to the steak. I'm almost always terrified of trying any meat from a frozen dinner. Perhaps it is just my paranoia, or maybe it is because an old roommate once gave me a turkey Hungry Man dinner that kept me on the toilet for the entire night. As far as deep frozen meat goes, the salisbury steak is actually pretty edible. As is the case with all Weightwatcher meats, it does have sort of a cardboard flavor to it, but hidden beneath that you begin to taste the undertones of high school bliss: salisbury. The gravy makes this hunk of beef borderline orgasmic (in Weightwatcher-food-terms of course...) and manages to add quite a bit of flavor to the meal.
Overall, I feel that Weightwatchers tried very hard to bring this meal into their lineup. It tasted a bit like it needed just a few more refinements, but the effort was there. However, I can't really justify eating something containing over 800 mg of sodium on a regular basis.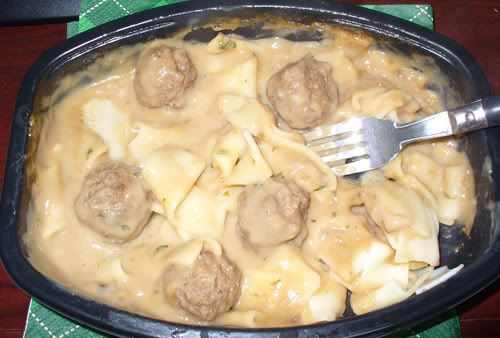 SmartOnes™ Swedish Meatballs & Pasta Noodles
Calories: 270
Grams of Fat: 5
Sodium: 730 mg
When I first opened the package, I instantly thought "There is no way in hell this is going to satisfy my hunger today." Nestled in a frozen bed of wide ribbon pasta noodles sat six medium sized meatballs. As I've already stated, I'm almost always leary of frozen dinner meat. However, I bravely dug into the meatballs first and was delightfully surprised to find that they were delicious. Each little morsel tasted like a homecooked meatball with just a touch of something sweet added to it. I don't want to say it was sugar, but it was certainly enough to give it that something extra.
The noodles, while mainly in the dish as filler, were steamed just right in the microwave and came out neither tough nor mushy. The entire entree was covered in a "savory cream sauce," the ingredients to such I know not, which was also very tasty. Not too salty, not too bland, just enough to add some yumminess to the meal.
Thus far, this meal has been my favorite. I'm still concerned with the amount of sodium in these meals, considering a Big Mac from McDonald's contains 1040 mg of sodium. A couple hundred mg isn't really that big of a dip to warrant spending the extra money on these meals.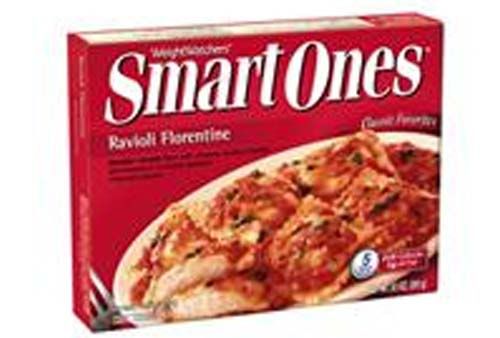 SmartOnes™ Ravioli Florentine
Calories: 250
Grams of Fat: 5
Sodium: 720 mg
Up to this point, the ravioli florentine has been the most boring meal I've consumed. The meal consisted of perhaps 10 medium sized raviolis stuff with ricotta cheese. Surrounding my tender pasta friends was a "hearty" spinach marinara sauce. And by "hearty," I'm assuming they mean "overwhelming." I could barely find some of the ravioli pieces as large hunks of spinach jealously hid them from me. I'm not a huge fan of Popeye's munchies, but I'm not against it either...in moderation.
This meal was less filling than previous ones, most likely because I didn't eat most of the marinara and spinach. The ricotta cheese was lackluster and didn't have any sort of real taste, just a sandy texture. I, personally, did not like this meal and probably won't give it another shot. However, as I stated above, spinach isn't exactly my favorite food so your mileage may vary.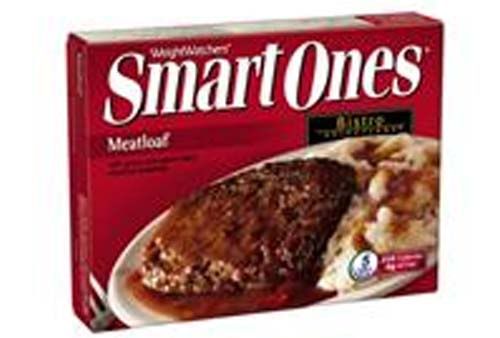 SmartOnes™ Meatloaf & Mashed Potatoes
Calories: 250
Grams of Fat: 8
Sodium: A staggering 880 mg
Ironically, this meatloaf was so awful I ended up making real meatloaf for dinner later that night. I began, as is my usual style, with the mashed potatoes. While the box claimed them to be "garlic & herb," I only tasted the garlic. That isn't to say the 'taters were bad, in fact they were the only highlight of this meal. The potatoes were creamy without being runny or chunky and the garlic did not overpower the natural taste of potato either.
I moved on to the brown chunk the box claimed was meatloaf. I found nary a piece of stuffing while cutting open my meat. I tried one piece without gravy. The meat was hard to chew as it was irredeemably dry. For round 2, I drowned the meatloaf in a hefty portion of the provided gravy. At first, I thought this was going to make everything zen. However, as I chewed, the gravy virtually evaporated in my mouth leaving me with yet another dried up hunk of beef tiring my jaw.
I was highly disappointed with this meal overall. I think Weightwatchers has shown they can make a good frozen meat, but this one slipped under the radar. Or they have Lassie doing the tastetesting. I could possibly live with the cardboard taste of the meat for a 1/4 cup more gravy in the bowl, but the mindboggingly high 880 mg of sodium means I'll probably never touch this meal again.
-Geist