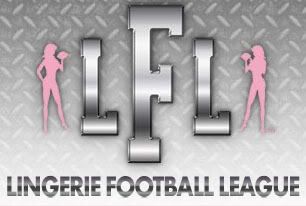 What began as a Superbowl halftime gimmick will transform into a full-on travesty come September of 2009. Yes ladies and gentlemen, the Lingerie Football League will be hitting networks this upcoming Fall. I distinctly remember watching Superbowl 37 and seeing the commercial for the first Lingerie Bowl: a $50 pay-per-view event which seemed to be nothing more than a softcore porn. My fraternity brothers and I roared our approval and, after a quick phone call, found ourselves watching scantily-clad women line up to play tackle football. In our heads, we imagined every tackle would rip off at least a bra or two and eagerly awaited kickoff.
Mmmm...this makes me feel competitive in my special spot.
Our excitement died immediately when we realized that these girls took the game seriously. They actually felt they were playing in a sport rather than just being eye candy for men around the nation. Part of me feels bad for them, the other part just laughs at them. Don't worry, I won't get all high and righteous on you because, honestly, what guy wouldn't want to watch this? However, they've taken it a little too far with their next incarnation. A true league? On cable? Watching girls play football in their panties is fun but will get old fast...especially with the chance of seeing a titty pop out completely revoked with cable's limitations.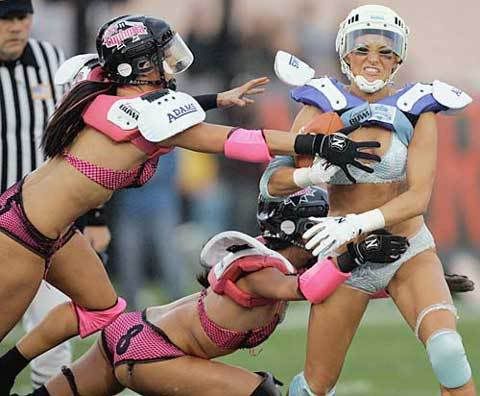 The LFL has an East and a West Division featuring such teams as the Chicago Bliss, Dallas Desire, Los Angeles Temptation, San Diego Seduction, Seattle Mist and five other aptly (and sexually) named teams. From what I can gather, each team will play two games (1 home, 1 away) with the best two teams facing off in the awe-inspiring Lingerie Bowl. In case following this...sport...wouldn't mark you out as a douchebag anyway, you can also sign up for their fantasy league and draft LFL players. Fascinating.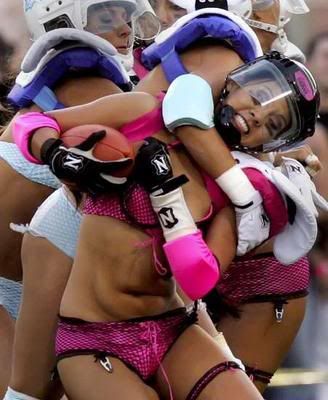 If you would like to find out more about this league, you can visit their site at www.LingerieBowl.com. Or, if you would like to see how painfully boring this event really is, YouTube has provided about a hundred Lingerie Bowl videos, most likely NSFW but your mileage may vary. Enjoy! Go New England Euphoria!
-Geist