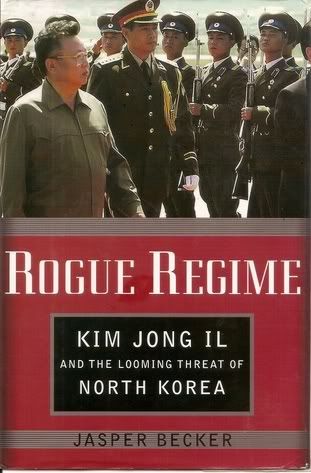 I actually picked up Jasper Becker's Rogue Regime: Kim Jong Il and the Looming Threat of North Korea on a whim. I had wanted to learn more about the minuscule dictator and the majority of what I read online or saw on the Daily Show (obviously) was satire. Though every American thinks he is simply a psychopathic ruler, I knew there had to be more to the man that was able to rule an entire country with an iron fist.
In the opening pages of the book, Becker elaborates that Kim is actually a brilliant politician and a cunning strategist. It is only through Western propaganda and movies (such as Team America) that Kim has been made to look like a bumbling, laughable super villain. Unfortunately, for us, he is none of that. He is, however, sadistic, egotistical, maniacal and downright cruel.
Rogue Regime suited my needs perfectly. I wanted a book that would give a short history of North Korea, Kim Jong Il, and Kim Sung Il (Jong Il's father). I was curious about the nation but I wasn't writing a thesis on the subject. Becker manages to swiftly jump between SungIl and Jong Il's respective reigns to illustrate separate points. The shifts in time are seamless and take nothing away from the book.
Becker systematically lists many of the reasons Kim Jong Il is known as an eclectic sociopath. He kidnaps foreign movie directors to produce North Korean feature films. He is cognac's single largest buyer even though over 50% of his country is living in starvation. He once spent 700 million on his father's 80th birthday. He imprisoned a woman for 10 years in a labor camp for singing a South Korean pop song. The list of atrocities and eccentricities goes on and on, peppered throughout this book.
Those looking to learn a little bit more about Kim Jong Il should take the time to read this book as it is entertaining (because, in Jon Stewart's words "the main is a real life super-villain") and informative. Rogue Regime achieves its purpose of being a primer on current North Korean affairs while providing sufficient backstory to understand how they got there.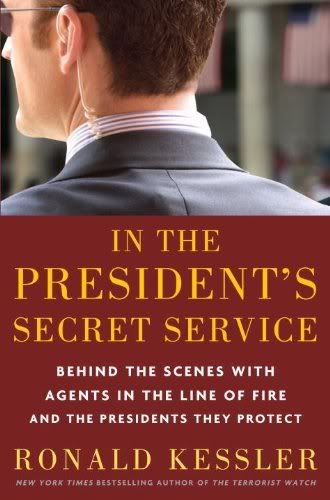 Yet another book that I could not wait to purchase the paperback edition, In The President's Secret Service by Ronald Kessler. I am the sort of person who will read just about anything, especially if I have no prior knowledge of the topic. Thusly when I saw an interview of the author for this book and heard a few of the anecdotes from it, I had to own it. $26 later, I was the proud owner of my next paper weight.
The book starts off well enough. Kessler details the very beginnings of the Secret Service and how they slowly came into being. Interlaced with the history lessons are stories about various presidents. Some agents tell of the way presidents treated them, presidential indiscretions and sometimes amusing presidential stories.
For the first 150 pages or so (the book is small, coming in at only 288 pages), Kessler delivers. Each chapter tells the story of a different president or protectee and, for the most part, they are eye opening and amusing. For this, I applaud Mr. Kessler.
From there, In The President's Secret Service just completely goes downhill. What were once great anecdotes has descended into various "anonymous" agents bashing the agency. You learn, repetitively, about the lack of updated weaponry, congested bureaucracy, poor pay, awful transfers, etc, etc, etc. By the time you roll around to page 200, it is hard to even continue reading the slander. I understandKessler has an agenda and most likely wants to open eyes with this book, but it ends up reading as a poor man's supermarket tabloid rather than a cohesive diatribe on the flaws of the Secret Service.
Overall, Kessler fails to deliver a book worthy of $5 much less $26. The writing throughout the book is subpar and feels very "high schoolish," but I had forgiven that in the beginning because the content far outweighed the delivery. On a sidenote, if I ever hear the word "magnetometer" one more time, I'm likely to stab someone. If you read this, you'll understand what I mean, but I highly recommend you wait until it is in the bargin bin.